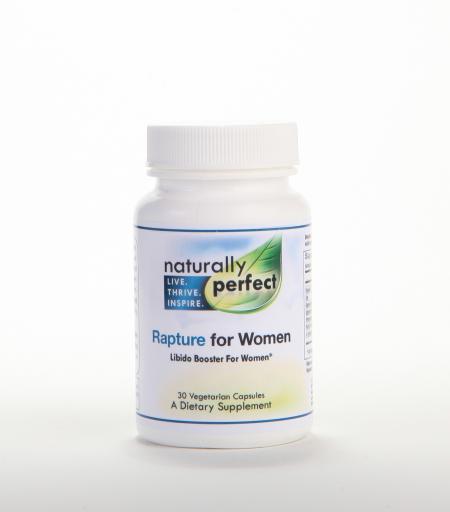 Promote Healthy Sexual Function for Women*
Naturally Perfect's Rapture for Women supports healthy sexual function for women of all ages by increasing sexual desire, frequency of orgasm, and the comfort of sexual intercourse.
Naturally Perfect's formula blends the following powerful ingredients:
Pomegranate Fruit Extract: This extract may encourage the production of the hormone testosterone. This hormone regulates both the female and male sexual drive.*
Red Clover Flower Extract: Red Clover may healthy red blood cells and a healthy, optimal blood flow including to the genital area.*
L-Arginine: A precursor to nitric oxide (NO) in the body,. NO encourages blood circulation and is important for normal sexual function in men and women.*
Epimedium Extract: Often referred to as a Yang tonic, this Chinese herb   produces a warm, almost euphoric effect on the body* Epimedium may promote normal sexual function and is commonly used as an aphrodisiac.*
Ginseng Root Extract: Thought to fuel vitality and libido in both men and women, Ginseng Root Extract has been revered since ancient times for its rejuvenating qualities.*
Effectiveness of Rapture for Women
Twenty-five women who had less-than-optimal sexual function participated in a 12-week study to determine just how effective Rapture for Women could be at boosting sexual desire, frequency of orgasm, and overall intercourse comfort.
Bottle Size
30 Capsules
Rapture for Women Suggested Use
Take 1-2 capsules a day or as recommended by your healthcare provider.
Supplement Facts
Serving Size
1 capsule
 
Servings per container
30
 
 
Amount Per Serving
% DV*
D-Apha Tocopherol
30 IU
*
Propriety Blend
465 mg
 
Wild Yam root extract, Myrtle herb extract, Cinnamon bark extract, Pomegranate extract, Passion ower extract, Damiana leave extract
* Daily Value (DV) Not Established
 
 
Other ingredients
Microcrystalline Cellulose, Magnesium Stearate and Vegetarian Capsule