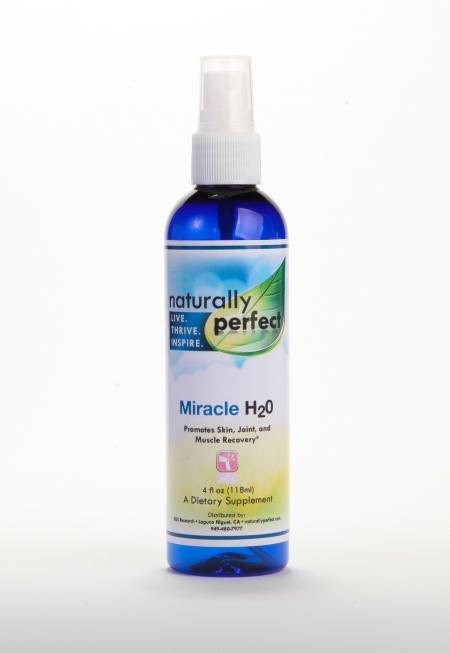 Promotes Skin, Joint, and Muscle Recovery*
Whether you're trying to recover from a overexertion or you're just looking for a boost in joint comfort, Miracle H2O is the perfect solution for skin, joint, and muscle health.
Naturally Perfect's Miracle H2O comes in a convenient spray bottle and works fast to support cellular health so you can return to the activities you enjoy.*
Miracle H2O can be used anywhere on the body and may help soothe and promote:*
Recovery from overexertion*
Joint comfort and wellness*
Relief from occasional muscle discomfort*
Naturally Perfect's Unique Formula
Miracle H2O is made with a calming blend of herbal flower essences and may promote energetic balance deep within the tissues.* Each of these flower essences contains a high-frequency electrical solution imprinted with the energetic pattern of that particular flower. Miracle H2O can be sprayed directly onto anywhere that aches for fast relief and a refreshing sensation.*
Miracle H2O provides long-lasting relief, while continuing to promote optimal cellular health.*
Naturally Perfect's Miracle H2O is made with all natural ingredients, so you never receive toxins or other harmful substances. Miracle H2O is also tasteless, odorless, nonstaining, environmentally safe, hypoallergenic, and alcohol-free.
Bottle Size
4 fl. oz.
Miracle H2O Suggested Use
Spray on affected area for fast, soothing comfort.* Reapply as needed. Safe if taken internally.
Supplement Facts
Contains
 
 
Distilled Water. Flower essences (Clematis vitalba, Helianthemun nummularium, Impatiens glandulifera, Ornithogalum umbellatum, Prunus cerasifera), minerals, colloidal silver and electrolytes
* Daily Value (DV) Not Established